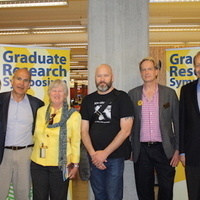 12th Annual Graduate Research Symposium
Come join us for the 12th Annual Graduate Research Symposium and Graduate Alumni Social!
The Graduate Research Symposium highlights the innovative research being conducted by graduate students in our 38 programs across five academic divisions: Arts, Engineering, Humanities, Physical and Biological Sciences and the Social Sciences. For years the Graduate Symposium has celebrated the scholarly, creative, social and commercial impact these exceptional students make and have made, within California and around the world!
Students have the opportunity to interact with the top academicians in their field, presenting their work at the Symposium in a variety of formats, including representative posters, as well as live and media presentations. A host of distinguished alumni, faculty and staff serve as judges and the often ground-breaking insight of the year's research is available for everyone to view.
The Symposium will be followed by the Graduate Alumni Social and we hope you'll join us at the Graduate Student Commons from 5:00 PM - 7:00 PM to celebrate another outstanding year. Come and enjoy light refreshments and great conversation! Always a favorite event, we hope to see you there!
You can join in by not only attending, but helping us judge these unique and innovative projects. If you are interested in being an alumni judge at the 12th Annual Graduate Research Symposium, please contact Erica Simpkins at esimpkin@ucsc.edu.
Friday, April 29, 2016 at 1:00pm
McHenry Library
1156 High St, Santa Cruz, California 95064