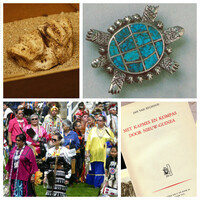 Anthropology 25th Anniversary PhD Alumni Panel
Come celebrate the 25th Anniversary of the Anthropology Graduate Program!
This innovative event will feature an educational panel from 3:00 PM - 4:30 PM, followed by a networking reception with light refreshments. This is the perfect opportunity to engage in a lively Q&A with experts and professionals in the field. Participants will be discussing current trends, strategies for success both in the Graduate program as well as in future careers.
The panel will consist of alumni PhD students who have been successful within and beyond academia. This is a great opportunity to celebrate the accomplishments of the Anthropology Department and its' Graduate Program, and connect with distinguished alumni in the field. Distinguished staff and faculty from the department will also be in attendance.
While guests are welcome to attend either event, we hope you will join us for both and enjoy the day learning about new and fascinating ways graduates are transforming the world of Anthropology.
For questions, please contact Taylor Ainslie at tainslie@ucsc.edu.
Friday, April 29, 2016 at 2:00pm
Social Sciences 1
Social Sciences 1 , Santa Cruz, California 95064