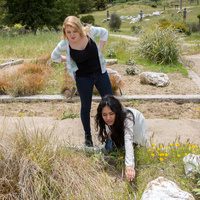 Arboretum Phenology Workshops
Calling all citizen scientists, hikers, families, students, educators!
Do you enjoy watching plants change through the seasons?
Would you like to help researchers study the effects of climate change?
Workshops will teach volunteers to monitor plants and gather phenology data, including when plants leaf out, flower, form fruit and other seasonal changes. No experience necessary--we will provide hands-on training in the UC Santa Cruz Arboretum Native Plant Garden.
The data you collect at this workshop will be uploaded to the USA National Phenology Network's database and is accessible to anyone, including researchers and policy makers.
Advance registration recommended.
Saturday, September 22, 2018 at 11:00am to 1:00pm
Arboretum, Please check in at Norrie's Gift & Garden Shop.
122 Arboretum Road, Santa Cruz, California 95064
Cost

Free with your paid admission to the Arboretum. (UCSC Students are admitted free to the Arboretum.)

Group

Subscribe