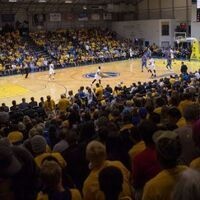 Banana Slugs at the Santa Cruz Warriors, Nov. 15
Help your fellow Banana Slugs cheer on the Santa Cruz Warriors as they take on the Salt Lake City Stars!
Banana Slugs at the Santa Cruz Warriors
at Kaiser Permanente Arena
Wednesday, November 15, 2017
7-9:30 p.m.
buy tickets here
Discounted tickets: $10 for recent grads*, must use code "recentgrad"; $12 for alumni
*Recent grad pricing is available to those who have graduated in the past five years
Calling all Warriors fans: purchase your tickets to watch your city's team as they host the Salt Lake City Stars. Whether you're dressed in your Warriors gear or Banana Slug swag, we hope you'll show some team pride and have a fun night!
Kaiser Permanente Arena is located at 140 Front Street in Santa Cruz. Click here for a map and directions.
Feel free to invite your fellow alumni, friends, and family. The more the merrier!
**NOTE: Tickets are non-refundable. If you'd like to sit with your friends and family, please purchase your tickets as a group. We cannot change any seats once tickets have been purchased. Questions? Contact Sam Li at sakli@ucsc.edu.
We hope to see you there!
Wednesday, November 15, 2017 at 7:00pm
Location Details

Kaiser Permanente Arena is located at 140 Front Street in Santa Cruz.

Subscribe