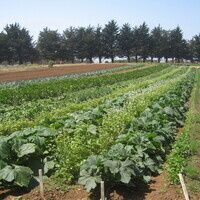 Birding Walk at the CASFS/UC Santa Cruz Farm (EVENT CLOSED)
PLEASE NOTE THIS EVENT IS NOW CLOSED. While we have reached capacity for this year's Birding Walk, we do still have space available for the Saturday, 10 a.m. tour of the UC Santa Cruz farm.
Santa Cruz is host to a diverse and rich array of bird habitats, including a wide range of habitats on the UCSC campus. Come enjoy a morning birding walk at UC Santa Cruz's prized 30-acre organic farm, part of the Center for Agroecology & Sustainable Food Systems - you might recognize us from recent news stories, including in the New York Times. The Center's mission is to research, develop, and advance sustainable food and agricultural systems that are environmentally sound, economically viable, socially responsible, non-exploitative, and that serve as a foundation for future generations.
The tour will be led by Breck Tyler, a longtime instructor with the Environmental Studies Department and seabird researcher with UC Santa Cruz's Institute of Marine Sciences. Breck has taught numerous natural history classes for UC Santa Cruz, including the Natural History of Birds and Natural History Field Quarter. He has spent years doing aerial survey work and leading bird banding efforts in the area. Between the farm, the birds, the wildlife, the tour, and the outstanding natural beauty, there's something for everyone. Beginning birders welcome! Bring your binoculars and join us for a beautiful Saturday morning on the farm.
The tour will meet in front of the Louise Cain Gatehouse, just inside the Farm's main entrance. Please park in the lot at the corner of Coolidge and Carriage House Roads and walk across Coolidge to the UCSC Farm.
Please note: Heavy rain cancels this tour.
For questions, please contact casfs@ucsc.edu.
Saturday, April 30, 2016 at 8:30am
UCSC Farm
Farm Road, Santa Cruz, California 95064