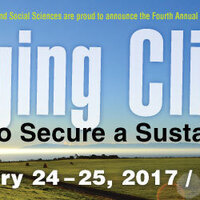 Changing Climate: Acting Now to Secure a Sustainable Future
Our overarching theme this year is "Changing Climate: Acting Now to Secure a Sustainable Future" On Friday night February 24th , Professor V. Ramanathan will open the conference with a keynote lecture. Dr. Ramanathan is a Distinguished Professor of Atmospheric and Climate Sciences at the Scripps Institution of Oceanography, University of California, San Diego.
Known for his discovery of the greenhouse effect of CFCs and other manmade trace gases, Dr. Ramanathan has received the Tyler Prize, the Volvo Prize, the Rossby Prize, and the Zayed Prize. In 2013, he was awarded the top environmental prize from the United Nations, the Champions of Earth for Science and Innovation. He has been elected to the US National Academy of Sciences, American Philosophical Society, the Pontifical Academy by Pope John Paul II and the Royal Swedish Academy of Sciences.
On Saturday morning and afternoon the conference will include three panel discussions focused on the actions society can take to prevent dramatic climate change, from considering the most viable clean, renewable options for powering society, to evaluating the economic and policy incentives needed to drive rapid adoption of those options, to communicating in ways that mobilize communities to action. Panelists include climate scientists, civil servants, journalists, and educators from across the country.
In a departure from our previous climate conferences, and in consideration of the new administration in Washington DC, we will conclude the conference with one more discussion on Saturday Evening: Climate Change Science and Policy in a President Trump Administration.
The Fred Keeley Lecture on Environmental Policy will sponsor this special conversation. Fred Keeley will moderate.
Saturday, February 25, 2017 at 10:00am
Media Theater
Experimental Theater , Santa Cruz, California 95064
Cost

While event is free, registration is required.

Subscribe