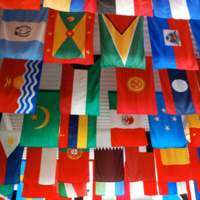 Downtown Mingle with Colleges Nine & Ten
Come and help us celebrate the College Nine and College Ten community with a lively and relaxed mingle in the heart of Santa Cruz! Downtown has changed a lot in the 15 years since the first of these two Colleges opened its doors, and we invite you to come and enjoy reconnecting with your fellow alumni, current students, staff, faculty, and friends!
Colleges Nine and Ten are the newest college on campus, and have made an enormous impact in the decade since they were founded. Both Colleges have produced exceptional alumni and continue to welcome students dedicated to international service, cooperation, understanding and social justice both at home and abroad.
College Nine opened in Fall of 2000 welcoming its first class of upper-division students, including new transfer students and continuing UC Santa Cruz students who came to us from other colleges. College Nine has worked hard to successfully develop a strong community, build meaningful traditions, and emphasize our theme through co-curricular programming. Our theme of International and Global Perspectives recognizes the importance of cultural competency in the 21st century. The College Nine community offers students a range of opportunities to explore these issues and to develop skills as dynamic leaders.
Founded in Fall 2002, College Ten is the newest college at UC Santa Cruz. Consistent with UC Santa Cruz's founding vision, College Ten creates an integrated living-and-learning environment through engaging academic and extracurricular programs focusing on the theme of Social Justice and Community. Students and staff collaborate to develop an array of programs exploring the many aspects of social justice. Some of the programs include faculty presentations, guest speakers, debates, films, arts events, and interactive workshops. These programs bring together members of our community to learn, debate, and challenge ourselves about important issues facing us today in an atmosphere of mutual respect and engagement.
Together, College Nine and College Ten represent some of the best and brightest of UC Santa Cruz students and alumni. We look forward to connecting with you at our Downtown mingle!
For questions, please contact lschachl@ucsc.edu.
Friday, April 29, 2016 at 5:30pm