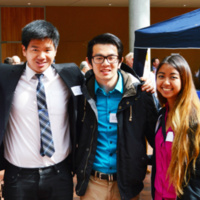 Economics Alumni Reception
Start your Saturday with the Economics Department for a morning Alumni Reception: after a brief introduction and a short presentation, enjoy a continental breakfast in the courtyard while mingling with other alumni and Economics Department faculty, staff, and current students.
The Economics Department runs one of the largest and most diverse programs on campus and we run undergrad, graduate and Ph.D programs, with thousands of students enrolled each year. As our proud and distinguished alumni are no doubt aware, our program is one of the best in Northern California. We have alumni engaged in the fields of economics, law, medicine, business, government, academia, finance and accounting. We can't wait to hear your story and learn all of the great things you've been up to among this acclaimed cohort.
Enjoy reconnecting with everything the Economics Department has to offer as you reminisce and catch up with fellow alumni, friends, faculty and staff!
For questions, please contact Leigh Faulk at lsfaulk@ucsc.edu.
Saturday, April 30, 2016 at 10:00am