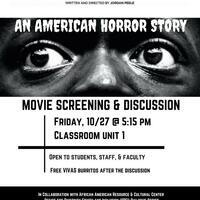 Get Out: An American Horror Story - Movie Screening and Discussion
Friday, October 27th, 5:15pm - 9:00pm
Classroom Unit 1
"Get Out" is a 2017 American horror film written, co-produced and directed by Jordan Peele, in his directorial debut.
The film stars Daniel Kaluuya, Allison Williams, Bradley Whitford, Caleb Landry Jones, Stephen Root, Lakeith Stanfield and Catherine Keener, and follows a young interracial couple who visit the mysterious estate of the woman's parents, uncovering a conspiracy whereby older white people are stealing the lives of young black adults.
After a screening of the film, participants will have the opportunity to participate in a facilitated conversation about racial inequality.
Friday, October 27, 2017 at 5:15pm
Classroom Unit
Classroom Unit , Santa Cruz, California 95064