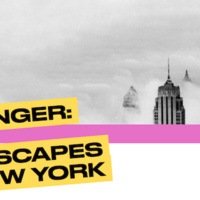 Rick Prelinger: Lost Landscapes of New York
Since 2006, film historian and archivist extraordinaire Rick Prelinger, UC Santa Cruz Associate Professor, Film and Digital Media, has presented twenty participatory urban-history events to enthusiastic audiences in San Francisco, Detroit, Los Angeles, Oakland, and at festivals throughout the world. For the first time, he is bringing his Lost Landscapes project to New York City. Join us to dive into the urban-history of New York alongside your fellow Big Apple Banana Slugs!
Rick Prelinger: Lost Landscapes of New York
Sunday, November 12, 2017
at NYU Skirball
3-4:30 p.m.
Tickets.png
Discounted alumni tickets: $16 ($20 face value)
Lost Landscapes of New York mixes home movies by New Yorkers, tourists, and semi-professional cinematographers with outtakes from feature films and background "process plates" picturing granular details of New York's cityscape. The combination of intimate moments, memories from many New York neighborhoods, and a variety of rare cinematic perspectives forms a 21st-century city symphony whose soundtrack will be provided by the audience. Viewers will be invited to comment, to ask questions and to interact with one another as the screening unfolds.
Rick Prelinger is an associate professor of Film and Digital Media at UC Santa Cruz and an archivist, writer, filmmaker and outsider librarian. In 1982, he founded Prelinger Archives, a collection of industrial, advertising, educational and amateur films that was acquired by the Library of Congress in 2002. With Megan Prelinger, he is the co-founder of Prelinger Library, an appropriation-friendly private research library open to the public in downtown San Francisco. His archival work currently focuses on collecting, recontextualizing, and exhibiting home movies and amateur films.
Questions? Contact Sam Li at sakli@ucsc.edu or (831) 459-4631.
We hope to see you there!
This event is presented in cooperation with the Museum of the Moving Image, NYU Cinema Studies and its Orphan Film Symposium.
Sunday, November 12, 2017 at 3:00pm
Location Details

NYU Skirball

Subscribe