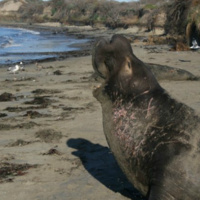 The Innovative Research of the University of California's Natural Reserve System and the Secret Life of Marine Mammals: How We've Pulled Back the Curtain
Gage Dayton, Ph.D., the Wilton W. Webster Jr. Presidential Chair for the UC Santa Cruz Natural Reserves, and Dan Costa, Ph.D. Distinguished Professor of Ecology and Environmental Biology, UC Santa Cruz
The University of California's largest facility: The Natural Reserve System
When we think of University facilities we tend to envision traditional buildings, laboratories, lecture halls, and a variety of other built structures. These facilities are critical to meeting research and education needs. However, for the biological, environmental, and physical sciences, arguably, the most important "facilities" are natural systems themselves. The University of California Natural Reserve System encompasses thousands of acres of protected lands throughout California that function as the living laboratories and outdoor classrooms for the University of California - UC's largest "facility." UC Santa Cruz combines a long history of environmental and conservation leadership with research excellence, innovation in inquiry-based field science education, an on-campus Natural Reserve, and commitment to inclusion and diversity efforts. This talk will provide a brief introduction of the UC Natural Reserve System and highlight some of the innovative research and teaching efforts taking place at the UCSC reserves that are aimed at understanding our environment and training the next generation of conservation leaders.
The Secret Life of Marine Mammals: How we've pulled back the curtain.
Like most studies of animal behavior marine mammal research started as a purely observational discipline. Animals were followed from boats or airplanes. While informative these observations provided only a very restricted view of where the animal spent the majority of their time, underwater. However, the development of devices that could be deployed on free ranging animals has significantly changed this restricted view of the behavior of marine mammals. We've come a long way from the first time depth recorder, a simple kitchen timer that recorded the dive pattern of a Weddell seal over an hour, to tags that tell us how deep, how long, how fast along with information on the characteristics of the ocean. This talk will describe the development of electronic tags, and how they have revolutionized our understanding of the behavior and physiology of marine mammals in nature.
Thursday, March 16, 2017 at 5:30pm
Invited Audience

Website
Cost

$10 ticket (Ticket price will increase to $15 after March 9) *This event is free to UC Santa Cruz students with valid ID.

Subscribe