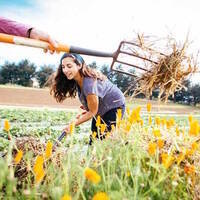 Tour of the UC Santa Cruz Farm
Join us for a walking tour of the 30-acre organic UC Santa Cruz Farm. Explore the farm's greenhouses, orchards, fields, and gardens, and learn about the research, education and public service work of the Center for Agroecology & Sustainable Food Systems (CASFS). As our alumni will well remember, the farm and garden offer thriving examples of organic agriculture and horticulture on both a hand-worked garden scale and medium-sized, tractor-worked farm scale. We hope you will come back home to our beautiful, internationally acclaimed farm!
Founded in 1971, the UC Santa Cruz Farm offers vibrant examples of organic agriculture and horticulture and gives students and community members a place to learn about organic gardening and farming techniques as well as larger issues facing our food system. We look forward to sharing the latest information on education, research, and outreach taking place at the Farm and at the Alan Chadwick Garden through CASFS.
Please wear comfortable walking shoes. This tour will start at the newly restored Cowell Ranch Hay Barn, located near the base of campus.
The tour will meet in front of the Louise Cain Gatehouse, just inside the Farm's main entrance. Please park in the lot at the corner of Coolidge and Carriage House Roads and walk across Coolidge to the UCSC Farm.
Heavy rain will cancel this tour.
For questions, please contact casfs@ucsc.edu.
This event is part of UC Santa Cruz Alumni Weekend 2016
Saturday, April 30, 2016 at 10:00am
UCSC Farm
Farm Road, Santa Cruz, California 95064