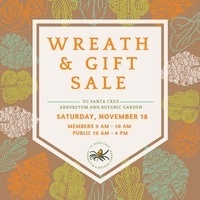 UC Santa Cruz Arboretum and Botanic Garden wreath and gift sale, Saturday
UC Santa Cruz Arboretum and Botanic Garden's Annual Wreath and Gift Sale,
Saturday, November 18.
Members Pre-sale - 9 am to 10 am
Open to Public - 10:00 am to 4:00 pm
Memberships will be available at the door for pre-sale the day of the sale or
Join now online
Arboretum artists have been busy for months creating stunning wreaths and dried flower works of art for this sale.
This is the only collection you will find that draws upon the Arboretum's rare and extraordinary succulents and dried plants.
Wreaths will be available in a wide range of styles, from traditional to one-of-a kind creations. Succulent and dried flower-topped pumpkins are also unique! These are the perfect decorations and centerpieces to last you thru the holidays.
Get inspired! Buy plants, dried flowers and frames to make your own creations or give kits as gifts. Wreath making demonstrations and wreath kits will be available.
The UC Santa Cruz Arboretum & Botanic Garden is a 50-year-old treasure and beloved destination for the central coast and local community that seeks to inspire stewardship of the world's biodiversity through research, education, and the conservation of rare, endangered, and extraordinary plants.
Directions to the Arboretum
Saturday, November 18, 2017 at 10:00am
Arboretum
122 Arboretum Road, Santa Cruz, California 95064