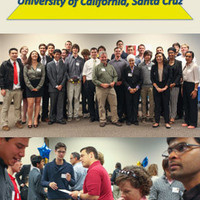 UCSC Entrepreneurship Showcase
The UCSC Center for Entrepreneurship invites you to our 2nd Annual UCSC Entrepreneurship Showcase on June 7, 2014 at 1pm. This festive annual event connects the community with UCSC student entrepreneurs who have been developing business concepts, prototypes, and business plans.
The afternoon will include networking, meeting the students and hearing their business pitches, and a keynote speech by distinguished entrepreneur and executive, Bill Grosso, CEO of Scientific Revenue.
An experienced Board of Judges will award prizes to the top student teams, and everyone in attendance will vote for the People's Choice Award. In total, $10,000 will be awarded to student teams.
Please RSVP online by May 30, 2014
Among the highlights, the event will feature:
A keynote address by Bill Grosso, CEO of Scientific Revenue. Prior to starting Scientific Revenue, Bill held senior positions in engineering and product at various companies including Live Gamer and Engage. He was an EIR at Rustic Canyon Partners and has written two books on software design.An interactive showcase and expo of student-designed business concepts marking the culmination of a 20-week entrepreneurship course connecting creative, energetic students with business mentors under the leadership of serial entrepreneur Dr. John Skardon.Networking with students, business leaders, UCSC faculty, and alumni.Hors d'oeuvres, beer, wine and nonalcoholic drinks.This exclusive event is a fantastic opportunity to:
Find out the latest about entrepreneurship at the UCSC Center for Entrepreneurship.Network with business leader, investors, and venture capitalists.Meet the Jack Baskin School of engineering dean, faculty, and students.Witness the birth of innovative new ideas.This Entrepreneurship Showcase is sponsored by the UCSC Center for Entrepreneurship and the Baskin Alumni Advisory Council (BAAC).
Saturday, June 7, 2014 at 1:00pm